---
Popular Bronze Materials for Centrifugal Casting Bronze Alloys
CEN Standard
ISO Standard

EN
Standard

German

Standard

British

Standard

American

Standard

Swedish

Standard

Norwegian

Standard

ISO

DIN-Norm

BS1400

UNS

SS

NS

CuSn5Pb5Zn5

CC491K

Rg5
*Rg7

LG2

C83600

SS 5204

NS16530

CuSn6

CW452K

CuSn6

PB103

C51900

SS 5428

NS16306

CuSn10

CC480K

CuSn10

CT1
PB1

C90700

SS 5443

NS16510

CuSn12

CC483K
CC482K

CuSn12
CuSn12Pb

PB2

C90800

SS 5465

NS16508

CuPb10Sn10

CC495K

CuPb10Sn
*CuPb15Sn

LB2

C93700

SS 5640

NS16540

CuAl10Fe

CC331G

CuAl10Fe2-C

AB1

C95200

-

-

CuAl10Ni5Fe4

CW307G

CuAl10Ni

AB 2

C63000

SS 5716-15

NS16570-15

CuSn7Ni5Zn3

-

-

G3

-

-

-

CuZn25Al6Fe3Mn3

CC762S

CuZn25Al5
(SoMs F75)

HTB3

C86300

SS 6234

-

CuZn35Mn2AlFe

-

*CuZn34Al2Mn3
(SoMs F45)

*HTB1

*C86500

SS 5238

*NS16565

CuZn35Al1

CC765S

CuZn35Mn2Al1Fe1-C
(SoMs F45)

*HTB1

*C86500

SS 5256

*NS16565

CuZn37Mn3Al2PbSi

CW718R

CuZn40Al2
(SoMs 58 Al2)

*CZ135

*C67400

-

-
---
Surface treatment --- Nickel Plating, Zinc Plating, Chrome Plating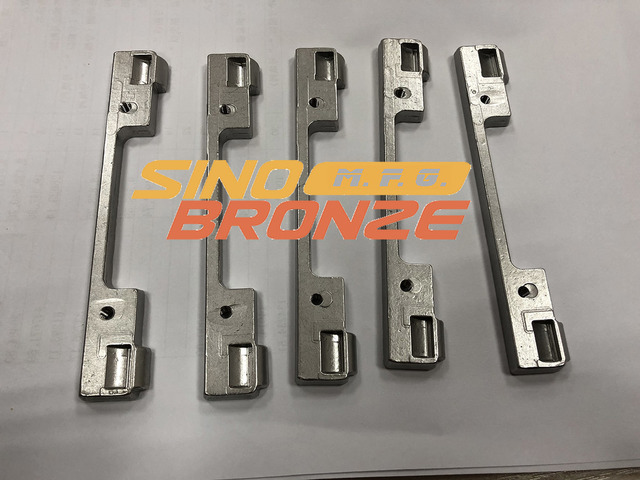 For environmental protection policy, Sino Bronze Co., Ltd. provide our customers with plentiful opetions for surface plating services on our parts reaches RoHS requires.
Our plating and coating are resistance to chemicals and abrasion, improved control of the friction coefficient with strong resistance to hydrochloric, phosphoric, sulfuric acids, automobile fluids and other chemical agents.

Please contact Sino Bronze Sales Representitives by

sales@sinobronze.com

to learn more details...
---