---
Who We Are

Found in 1999, SINOB RONZE CO., LTD. is a researcher, designer, manufacturer and wholesaler of all bronze, copper and brass based industrial parts. From the raw materials of casting bronze to the finished bronze products, SINO BRONZE CO., LTD. is providing our customers with an excellent soluction for self lubricating sliding parts and bronze furniture handles.

Since 2009, SINO BRONZE CO., LTD. has successfully become a reliable component supplier of construction equipment makers and automotive manufacturers in global market.
---
What We Do

As an ISO/TS 16949:2009 certificated factory by NQA and IATF, SINOBRONZE CO., LTD. is manufacturing bronze parts in accordance with DIN, BS, EN (DIN/EN), SS, NS, UNS, SAE standards and Chinese GB standard.

The electrolytic copper is the raw material of all our products, which are produced through centrifugal casting, continuous casting and extrusion.
---



Through years, we are specialized in the production of high brass, tin bronze, aluminum bronze, phosphor bronze, manganese silicon bronze, leaded bronze self-lubricating bearings, sliding bushings, oilless wear plates, thrust washers, blocks, strokes and all shaped of bars, which are widely used in metallurgical machinery, shipping machinery, energy equipment, mining machinery, engineering machinery, plastic mould machinery and die casting industries. In specify, below is our supplying line:

---
Centrifugal Casting Bronze & Centinious Casting Bronze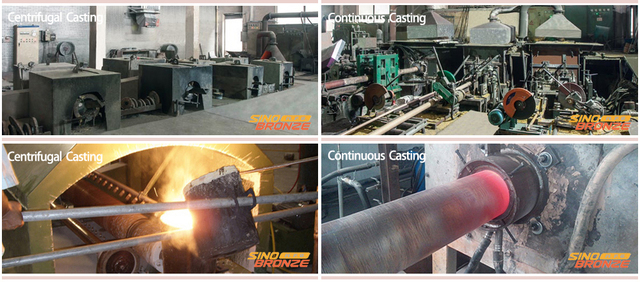 With our centrifugal casting bronze machines, continuous casting bronze machines, and extruder of 800 Ton & 1,250 Ton, we supply popular bronze alloys to internal market and worldwide market, such as LEADED TIN BRONZE, LEADED RED BRASS, MANGANESE BRONZE, ALUMINUM BRONZE, TIN BRONZE, HIGH-LEADED TIN BRONZE, NICKEL SILVER BRONZE, PHOSPHOR BRONZE and VERY SPECIAL COPPER ALLOYS in forms of bronze bars, bronze tubes, bronze plates, and bronze washers...etc.
---
Machining Facilities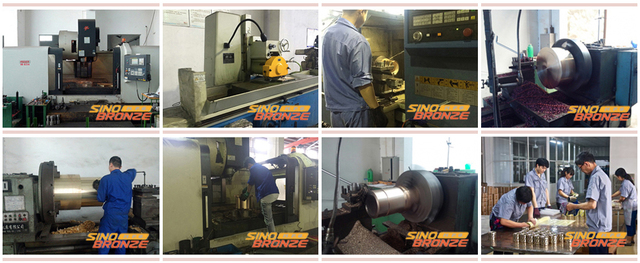 In the respect of machining, SINOBRONZE has more than 60 major equipments of different sizes, such as CNCs, ordinary lathes, milling machines, high-precision centerless grinder, bushing's internal grinder, surface rinder, gear hobbing machines, linear cutting machines, bushing's shaping machines, plate-cutting machines, bushing's auto-wrapping machines, as well as ultrasionic cleaner...etc.
---
Material Test & Finished Product Inspections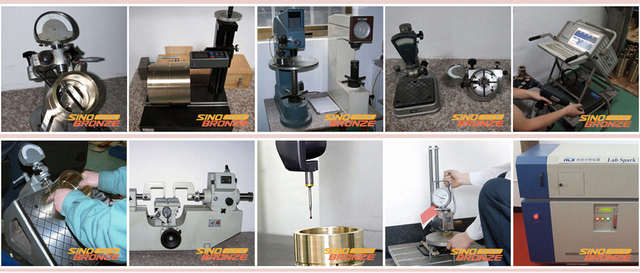 Let's work together

We are providing worldwide customers with our in-time feedback for RFQs of "Made from Prints" or "Made from Samples".
Customers' inquiry by telephone or by email is highly appreciated!