SB-T90S | CuSn8 wrapped bronze bearings with SEALs or wiper rings, metric size

The bearings are wrapped from a cold formed homogenous bronze CuSn8 (alternative CuPb10Sn10) with
exceptional material properties. The standard sizes incorporate holes, which are dispersed in a special
way over the whole bearing surface. These holes serve as lubricant reservoirs to rapidly build up a
lubrication film at the start of movement and thereafter reduce the running friction. The material is suitable
for construction and agricultural machinery etc. where high load and slow movement occur.

| | | |
| --- | --- | --- |
| Bronze alloy | Chemical Composition (%) | Type |
| CuSn8 | Cu=91.3% Sn=8.5% P=0.2% Pb=0% Zn=0% | Lead Free |
| CuPb10Sn10 | Cu=Balance. Sn= 9~11%, Pb=9~11% | With Lead |
---
Features
1. Easy of fitting and lubricate
2. High load capacity
3. Excellent wear resistance with lower friction
4. High level thermal conductivity
5. Minimum overall dimensions
6. Chemical resistance
7. Extended service life and lubrication intervals than normal SB-090 type bearings
8. Free selection of lubricants
9. Collection of dust and rub off particles in the holes. Initial pre-lubrication at assembly is required...
---
Typical Applications
This type of bushing is widely applied in hoisting machines and other construction machines, automobiles, tractors, trucks, machines tools and
some mineral engines. It can be fabricated into bushes, half bearings, flanged bushes, thrust washers, spherical bearing and so on.
---
Technical Reference


---
Bearing Tolerance


---
Specifications of Oil Holes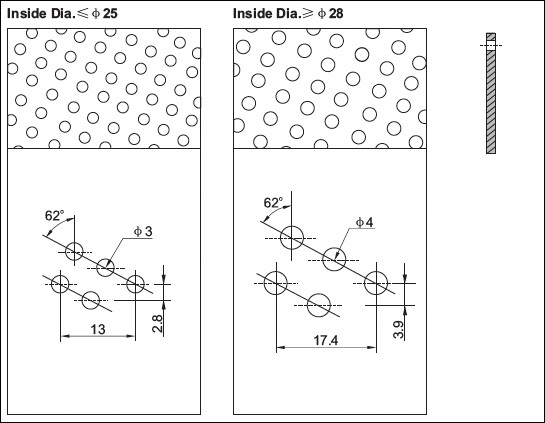 ---
Other Wrapped Bronze Bushings
---
Non-Standard Parts