Bimetal Bush with Flange

Sintered SAE797 Layer + Steel Backing + Copper Plating / Tin-Plating
Sintered SAE799 Layer + Steel Backing + Copper Plating / Tin-Plating
Sintered SAE48 Layer + Steel Backing + Copper Plating / Tin-Plating
Sintered SAE783 Layer + Steel Backing + Copper Plating / Tin-Plating
---
Features
Steel shell backed with a lead bronze lining bearing material for oil lubricated applications. This material has high load capacity and good fatigue properties. It is widely used in automotive applications such as compressors, steering gear, power steering, pedal bearings, king-pin bushes, tailgate pivots, mechanical handling and lifting equipment, hydraulic motors, agricultural machinery etc.
---
Structures

1. Sinter bronze powder: good wear resistance and excellent load carrying capacity.
2. Steel backing: provides exceptionally high load carrying capacity, excellent heat dissipation.
3. Copper plating thickness 0.002mm provides good corrosion resistance.
---
Bronze Alloys Available


---
Composition Analysis of Bronze Alloy SAE797,SAE799, SAE48, SAE783

---
Types for Bi-Metallic Bushing's Grooves and Indents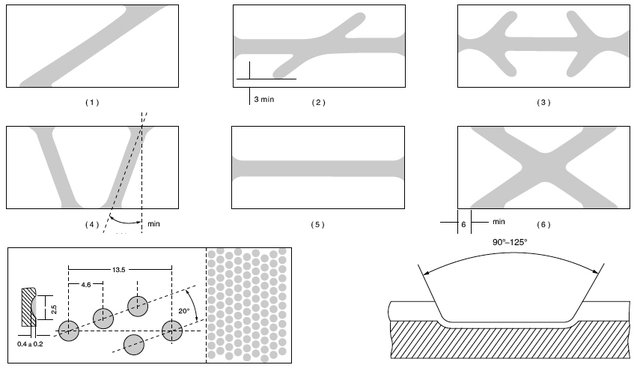 ---
Lock Types for Bi-Metallic Bushings



---
Typical Applications
The main applications are in Automotive and Industrial products.
Automotive: McPherson struts and shock absorbers, doors, bonnets and tailgate hinges, steering columns, clutches, gearbox selector fork guides, wiper arms, power steering pumps, pedal bushes, ABS equipment, etc.
Industrial: Aerospace, agricultural equipment, construction equipment, material handling equipment, forming machines-metal, plastic and rubber, office equipment, medical and scientific equipment, packaging equipment, pneumatic and hydraulic cylinders, pumps and motors, railroad and tramways, textile machinery, valves, etc.
Bimetal Bushings' applications for King pin, Spring eyes, Trunion, Piston pin, Rocker arm, Connecting rod, Transmission system, Distributor, Clutch, pilot, Starter, Generator, Oil pump, gear pump, Water pump, Cam shaft, Intermediate shaft, Balance shaft.
Bimetal Washers' applications for Main bearing, Cam shaft, Crank shaft, Distributor, Transmission system, Oil pump, Ram pump, vane pump and other applications.
Engine Bearings' application for Cam shaft, Crank (main), Con. Rod (big end) and other applications of engine bearing.
---
Other Standard Wrapped Bimetal Bushing Shapes

| | | | | | | | | | | |
| --- | --- | --- | --- | --- | --- | --- | --- | --- | --- | --- |
| | | | | | | | | | | |
| SAE-797 Bimetallic Bush | | SAE-799 Bimetallic Bush | | SAE-48 Bimetallic Bush | | | | | | |
| | | | | | | | | | | |
| | | | | | | | | | | |
| SAE-783 Bimetallic Bush | | Bimetallic Thrust Washers | | Bimetallic Strips & Plates | | | | | | |
---
Non-Standard Bimetal Parts